How do I take and send a screen shot to RealNetworks using a Macintosh?
A screen shot is a saved picture of content that appears on your monitor. Screen shots are helpful for technical support when you have received an error or you are experiencing program behavior that is hard to describe in words.
To create a screen shot:
1. Reproduce the error, window, or image that you want technical support to see. Leave it up on the screen.
2. To capture a picture of the entire desktop, press Command-Shift-3. The screen shot will be automatically saved as a PNG file on your desktop.


3. Click on the picture to view it in Preview.


4. Click the File menu at the top and choose Save As.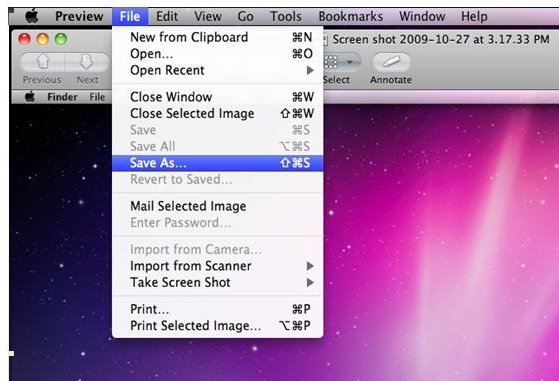 5. Change the Format to JPEG.
To send the screenshot to our support team:
1. If contacting us for the first time, click the Attach file link on our email form; find the document and click Open to attach it before clicking Submit.

2. If replying to a request, open the last email RealPlayer Technical Support sent to you. You can either reply to it or create a new email and type the email address given to you by Technical Support in the To: field.
Choose the Attach or Attachment option (your options may vary with your email program; in Outlook it's the paper clip icon next to Send). Browse to and attach the Realscreenshot file on your desktop.

Another method for capturing screen shots in Mac OS X is by using the bundled Apple utility, Grab, located in the Applications->Utilities folder. Grab is useful if you need to include a cursor or a menu in your screen shot, or if you want to save your screen shot to TIFF format.

To include a cursor, first go to Grab Preferences and select the cursor icon you wish to have in your screen shot. To capture the screen with Grab, run Grab, then choose of the capture modes from the "Capture" menu: Selection, Window, Screen, Timed Screen.