I see some faces that I don't want in the People tab. How can get rid of them?
If you don't want some people in the People tab, you can remove them.
Open RealPlayer.
Click People tab.
Select the faces you want to remove and right click and click Remove.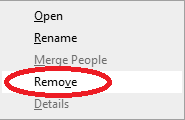 Note: Removing the person will not delete the video from your library.