How do I make changes to People Search feature?
People Search can be configured by going to Preferences.
1. Open RealPlayer.
2. Click RealPlayer logo from the top left corner.
3. Click Preferences.
4. Click People Search.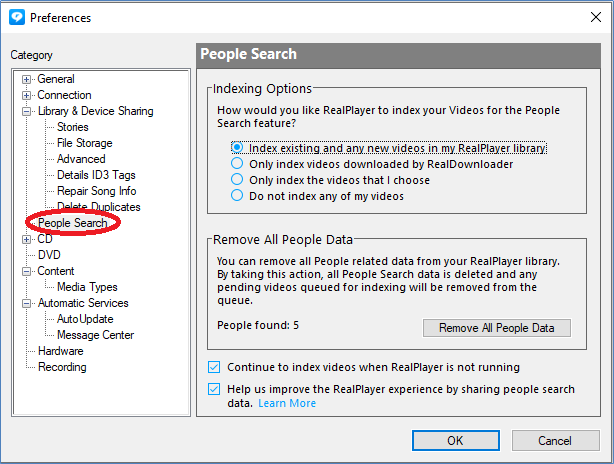 These preferences let you customize how you organize you want to RealPlayer to identify people in your library.
Indexing Options: These preferences will index your videos for the People Search feature.
| | |
| --- | --- |
| Index existing and any new videos in my RealPlayer library | All of your videos in your RealPlayer library will be scanned/indexed |
| Only index videos downloaded by RealDownloader | Only videos that you download using RealDownloader will be scanned/indexed |
| Only index the videos that I choose | Only your videos that you choose will be scanned/indexed |
| Do not index any of my videos | People search will be disabled |
Remove All People Data: This will remove all the indexed data from your RealPlayer library. This will not show any people's pictures under People Search.