Unable to download videos from Discover tab?
I was able to download videos from the Discover tab but not anymore.
Ever since Microsoft stopped supporting Internet Explorer, we had to make changes to update our software to be compatible with Edge browser/Chromium browser. This is the reason the old Downloader button won't show up anymore. If you want to use the same older Downloader button, you can follow these steps.
Open RealPlayer and click the RealPlayer logo from the top left corner and click Preferences.
Click Media Types under Content.
Uncheck "Use the latest browser engine for HTML pages in RealPlayer.
Click OK and restart your computer.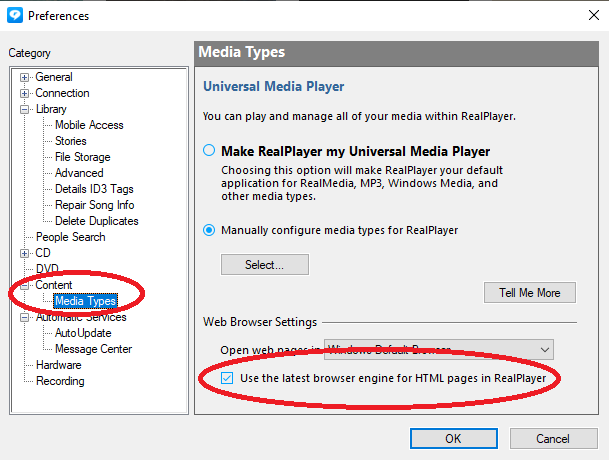 Please note: You may have to sign into RealPlayer once again.
Now, click RealPlayer on the top left corner again. Click File --> Open and type your website address to play the video. The Download This Video is similar to how it was with Internet Explorer.
However, it is highly recommended that you directly open your Chrome, Firefox or Edge browser and go to websites such as YouTube. You can download videos directly using our Downloader from there.
Click here for instructions to download videos using Chrome, Firefox or Edge.